Under Construction
Under Construction
When were South African first introduced to Robotwars
A Brief History
South African were introduced  to the  Robotwars visually as a TV robot combat competition on BBC Brit on DSTV that was broadcast on  television from 1998 to 2018. The series, centred on the sport of robot combat, involves teams of amateur and professional roboteers operating their own constructed remote controlled robots to fight against each other, whilst also avoiding arena hazards and more powerful "House Robots", which were not bound by the same weight or weapon limits as the contestants. 


Dutch Robot Wars
Dutch Robot Wars (known as The Dutch Battles in the Netherlands) was the Dutch version of the British television game show, Robot Wars. It was broadcast by the BNN network on the Nederland 2 TV channel from 2001 to 2003.  Despite being made for a Dutch audience, recorded in the Dutch language and featuring mainly Dutch competitors, the series was actually filmed in the main Robot Wars TV studio in London, with the battles taking place in the main Robot Wars Arena. The series also featured many robots from Belgium (the same robot combat association), with the highest placed representative from each series being crowned the Belgian champion.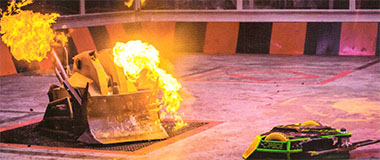 BattleBots
BattleBots is an American robot combat television series of which the 2018 season was shot in front of a live audience back in April  at Long Beach, CA. BattleBots is an offshoot of the original American version of Robot Wars that became the Uk version, the brainchild of Marc Thorpe.  Competitors design and operate remote-controlled armed and armored machines designed to fight in an arena combat elimination tournament. BattleBots aired  did 5 season but ended December  2002. The robot builders left behind in San Francisco formed BattleBots, Inc. and began a series of competitions.  In November 2015, ABC announced that it had renewed the BattleBots revival for a second season, which expanded the competition to a 56-team field. After ABC declined to renew the revival for a third season, the series was picked up by Discovery Channel's sister network Science. China has started their own series based out of Shanghai. We find some of the American and UK robots taking part in China. Robot Wars has eveloved into Robot Wars Live which is a touring event, more asa spectator event than a made for TV competition.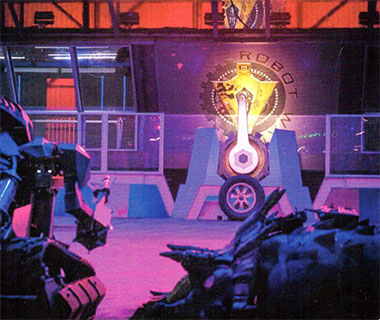 Dutch Robot Wars
South Africa will go through a similar process  as what happened in the Netherlands where there are not enough Combat robots available thus so  called Qualifiers  that  were held meant every robot that was able to move, while being within the weight limit was automatically accepted for the series. Despite this, Marien van der Meer claimed in the original Robot Wars Magazine that 106 entries attempted to qualify for the first series, with 30 being selected to compete. In South Africa what we plan to do is make 20 Combat Robot component  kit sets available which will make it faster to construct a combat robot for the various university teams and assist the private entrants.


how to build a battle bot
SOME USEFUL LINKS
Robot Parts
And other necessities...